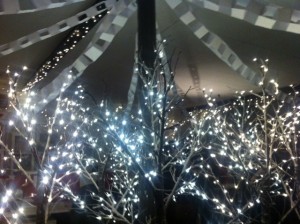 On Monday I went to the Nosy Crow Christmas Party. Nosy Crow is the company which publishes my books, and the parties are always great fun. They know how to make a room sparkle!
The company has grown from a tiny idea to the 16th largest children's publisher in the country in just 5 years, and has won dozens of awards along the way. The annual party is a fabulous way for those of us who don't actually work in their office to get together and catch up. Writing can be a solitary business – we sit alone with our laptops , sometimes for months on end, so it's really lovely to speak to people who are going through the same thing as you. We all have our moments of doubt (Is this book rubbish? Will anyone ever want to read it? That sort of thing), and it's great to know you are not alone.
It's also an opportunity to meet other people who are involved in the production of the book. We see our editors quite a lot, but rarely see people like the proofreaders, typesetters and sales team. Even the guy from the printing company was there! It really is a team effort making a book, and it was brilliant to celebrate with all that team together.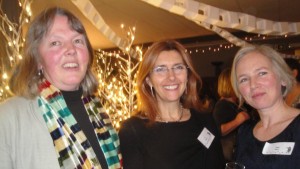 This is me (in the middle) with two of the other fabulous Nosy authors, Fleur Hitchcock and Helen Peters. (Picture from John McLay)