So Christmas has been and gone, and New Year's Eve is still a few days away. A lot of people aren't at work, and no-one is in school. It's that period of time which – back in early December – you think 'I'll have so much spare time. I'll learn to play the guitar, or read Pride & Prejudice, or do all my revision for my mocks' and then, when the time comes around you end up sleeping until the afternoon and watching too many bad films on the TV. And then before you know it, it's New Year's Eve and the holiday is all but over.  On my list this year are clearing my home office so I can find things, do my tax return and clear the clutter from the corner of my bedroom which I've been ignoring for about three years. And that's before I do the major edit on the first draft of the work in progress and the promotion for the new book. The time is already slipping away.
In my family (and I have no idea why), we call this 'The squidgy bit in the middle' or 'the squidgy bit' for short. Every year we make a list of things we want to do, and every year, very few of them actually happen. But one thing we are quite good at is meeting up with friends during this time. We can see people every night as no-one has work in the morning and we catch up. We go on long dog walks and have pub lunches and we talk.
Yesterday I met up with one of my oldest friends – someone I was at university with. That's him with me below. He lives in Inverness now, so I hardly ever see him, but he was flying home and had several hours to spare at Heathrow. So we arranged to meet and have lunch and catch up on some of the things which have happened over the years since we last met.
So, I might not get all the things on my list finished this squidgy bit, but I will have seen some old friends, and that's what's more important, I think.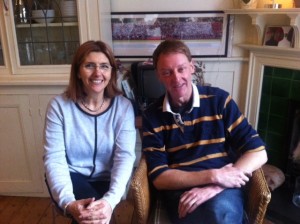 (This post first appeared on Girls Heart Books.)