Yesterday my poppy from the installation at the Tower of London arrived. It was slightly grubby but still a brilliant shade of red.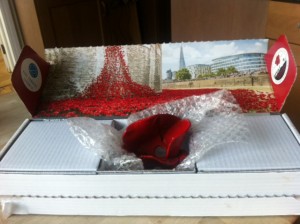 I ordered one because I thought that it was a fantastic way to remember the dead of the First World War, and I had found the installation itself incredibly moving when I visited. My grandfather – my dad's father – served in that war. I have no idea of his regiment, and I haven't got a single photo of him. Really, I know almost nothing about him beyond his name – Harry. But one of the few facts I do know was that during the war he was gassed in the trenches. It didn't kill him, but it ruined his lungs. He was sent home, and eight years after the end of the war his wife had their only child, my dad. They lived in Silvertown, a really poor part of London which is now really expensive, and a few short years later, when Dad was about four, Harry finally died when his lungs gave up.
So he didn't have a poppy in the moat as his injuries killed him later, but he did manage to have a son, unlike so many of the others. And that son had three children, and between us we have six children – Harry's great-grandchildren – and I like to think that he would have been pleased with that.