I love school visits. I love talking to a room full of kids, trying to get their interest, and then hopefully getting them to the point where they can't wait to ask questions.
Earlier this week I was lucky enough to be invited to Dover Girls' Grammar School, where I talked to about half the school – over 400 girls. They were brilliant – laughing when they should and some were practically jumping up and down with their enthusiasm to ask me things. The questions ranged from the expected 'where do you get your inspiration?' to the more unusual  'which Harry Potter character would you be?'.
It was my first presentation for my new book, The Beneath, and it's always a bit nerve-wracking starting a new one. I didn't tell them though, and I don't think the girls noticed. The book isn't out until the 5th March, but the great team at Nosy Crow pulled out all the stops to get the books printed in time for the event – they arrived directly from the printers, literally hot off the press! It was the first time I'd seen a finished copy, so I had to make sure I nabbed one to take home.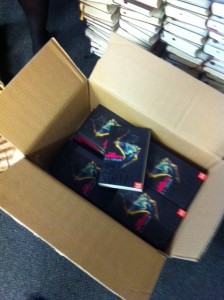 After the talk I gave a workshop to the creative writing class where we talked about the trauma of trying to write a compelling first line, and how to describe something common from the point of view of someone from a different world. In my new book one of the two main characters escapes from a secret community hidden below the Tube network in London, and has never seen a bus, or a kitten, and  doesn't know what to make of the sky. The girls all came up with really imaginative ways of describing things, and were keen to show me some of the other writing they had done.
Finally I signed books – loads and loads of them, and when they all sold out I signed bookmarks and had lots of selfies taken. I was so busy I didn't get to take any pictures myself, but hopefully will get one from the school soon.
Thank you DGGS for a wonderful day!