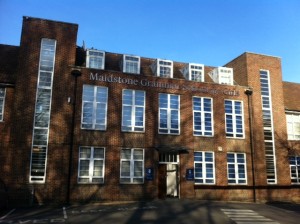 Today I went back to my old school – Maidstone Girls' Grammar School – to tell them about the new book. I did my first ever school visit there back in 2011, and I've been back many times since then. The staff there are all fabulous, and the librarian has really inspired the pupils in their reading.
I talked to two different groups – the Book Club (who are a mix from various years, inspired by the awesome sixth-formers Iona and Lauren), and then some classes from Year 8. They asked some brilliant questions and the time flew by, and at the end I signed so many books that we ran out – always a good sign! With some groups I'm not sure if they really want to be listening to an author or they are just enjoying missing double German, but if they all get the books I reckon they must be interested.
Once the talks were finished I was given a special tour – I had heard that the old air-raid shelters under the school had been 'rediscovered' recently. I think that the caretakers always knew where they were, but when I was at the school we had no idea that these tunnels snaked around under the buildings. When one set was re-opened it was full of rubble and junk, but when it was cleared out all sorts of things were found, including old chemistry equipment and chalk diagrams on the walls, which had doubled as blackboards. There are apparently two more sets on the site where the entrances have been covered over. I wonder what's down there now?