Two exciting things happened yesterday – the very first UK YA Blogger Awards, and my first sighting of The Beneath in the wild!
I was invited to the awards by the organiser, the lovely, and slightly mad, Andy Robb. They were held in the huge basement room in the Waterstones store on Kensington High Street. It was a brilliant event – the room was stuffed with bloggers and authors and a considerable amount of wine and nibbles. A full write up of the event can be found on the blog of one of the winners – The Pewter Wolf – here.
It was a great opportunity to catch up with fellow writers and to thank those wonderful bloggers who work so hard in getting out books out there. We really do appreciate all their efforts. I'm already looking forward to going next year.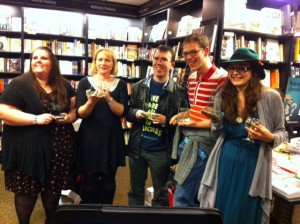 Some of the winners – @ChellyToy, @Serendipity_Viv, @YAYeahYeah, @PewterWolf13 and @SisterSpooky clutching their awards.
And while I was there I took a cheeky peek into the YA department and was delighted to see this: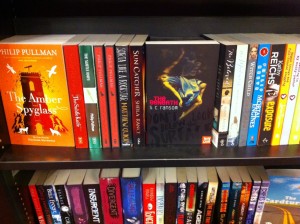 My first sighting of The Beneath in a shop, and I was delighted that they sold out during the event. Do tweet me with a picture if you see it! (on @SCRansom).