Last week I went back to my old school, and this week I went to my daughter's school. They are spookily similar!  Luckily Ellie doesn't mind my coming to talk to her friends, and she didn't heckle too much from the back either.
The same – really lovely – thing happened at both schools. A girl arrived at the table where I was signing books clutching some very well-read copies of Small Blue Thing. One of them even told me that she had queued outside the shop for the second and third in the trilogy. There is something really special about a book that has been read so often that the edges go soft, and it was a privilege to be able to sign them.
Here are some of the readers from Maidstone Girl's Grammar School.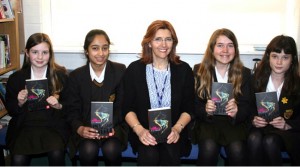 And the full article can be read here.