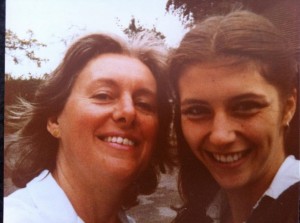 Time is a cruel thing. As I watch my children grow and find their independent wings, the harder it is to watch the older generation fade away. This afternoon I was sitting in a car park at a care home, waiting for my husband to get his parents, occupying myself by scanning Twitter. I was reading a beautiful passage tweeted by Matt Haig from his book Reasons to Stay Alive, when a 'Private Ambulance' drew up. One resident of the care home didn't make it through Mother's Day.
I couldn't be with my mum today, but we spoke on the phone and I'll see her soon. Having seen that ambulance I wish I'd changed my plans and made the trip, though. So here is a picture of my Mum and me, back in the day. I'm not sure how recognisable either of us are now from that photo, but we were clearly having fun.
As Matt so eloquently says, there are many, many reasons to stay alive. Cherish the moments which you have with the ones you love.