This week the new Cinderella film is being released, and I've been reading a lot about it. Not about how skilfully the old fairytale has been converted to live action, or the quality of the acting, or the sumptuousness of the sets – it's all been about Lily James's waist in that ball gown.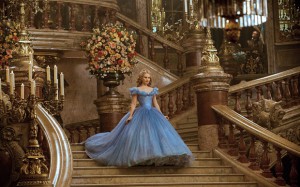 The actress is already incredibly slim – she couldn't get away with those flapper dresses in Downton if she had any curves – but the dress has been designed to give her a mind-bogglingly small waist. She admitted that she was laced into an extremely tight corset – so much that it was hard to eat even soup when she was in costume – all to make her as close as possible to the Disney figure we all remember. The design of the dress also helped, with the flare of the full skirt accentuating the microscopic span of her middle.
And I'm really not alright with that.
Cinderella is a film aimed at kids (it has a U rating), and the kids of that age today are pretty savvy about what they see. They watch enough cartoons to know that when something lands on Wile E Coyote he won't get hurt, or that Marge Simpson's hair is impossibly high and can't really conceal the family cat. But this file is live action, not a cartoon. The kids watching will see Lily go from the dowdy cleaner (probably wearing some sort of sack) to the princess of the ball with the tiniest waist in the ballroom. And who gets the boy? Is that really the sort of message we want to give out?
Lily is a beautiful girl and would have looked stunning in whatever dress they put her in – and I bet she still looks stunning in the sack outfit too. The director has made the choice to make her cartoon-like, into an image which no girl could – or should – hope to achieve.
I wasn't bombarded by these sorts of images when I was younger, but I still spent my teenage years on a perpetual diet, trying and failing to achieve a flat stomach. It wasn't until much later I realised that I was the shape I was, and learned to accept it as my healthy norm. If I'd been a kid today I think I would have struggled horribly, and film like Cinderella would only have made things worse.
What do you think? Does seeing this make you feel bad about how you look? I hope not.
(This post first appeared on Girls Heart Books)