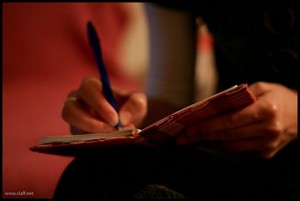 I was recently asked by a school to combine my usual author talk with one which included some background on my career track and advice for aspiring writers. As I started making some notes about what I would say, it became obvious that – despite talking about a job I love – I wasn't going to be painting a particularly rosy picture. Life as an author today has some unique challenges, and I was torn between being realistic and crushing dreams. I started with the daily choices we have to make.
Do you work on your WIP (Work In Progress) or market your latest book? There aren't enough hours in the day to do both, not when marketing means building relationships on Twitter, writing guest posts for bloggers, pitching for invitations to events and much more. These days very few authors find that their publisher is going to put a big marketing budget behind their new book. The money just isn't there. So the only way that people are going to find out about your book is for you to get out there and do it yourself. This takes huge amounts of time, and you won't have a lot of that –see point 2. But if you don't have the time to write the next book you won't sustain your momentum with your readers. It's a horrible conundrum.
Do you spend your limited free time writing or with your family – because, lets face it – those royalties aren't going to pay the mortgage, and you'll need another – 'proper' – job which will take up most of your days. Unless you hit lucky, or have a supportive partner or (I wish!) a trust fund, reality means that writing will be your hobby and there will be a day job which sustains you financially. I know very few authors who have the luxury of 'only' writing.
Do you charge for visits and appearances or do them because they are 'great exposure'? I just *love*doing school visits and events. There is nothing better than getting to speak directly to the readers, finding out what they like and hearing their opinions. But often the organisers imagine that they don't need to pay us, that the exposure or the chance to sell and sign books is enough. It isn't. It's a day off from the paying day job (or a day out from writing) and the reality is that you rarely sign enough books to compensate for a day's pay.
Do you try to find an agent and/or publisher, or do you self-publish? It's an increasingly tricky question. I've been lucky enough to be traditionally published – all four of my books have gone to market that way. But many people are now choosing to self publish, some even turning down publishing deals in the process. Their logic is that they will have to do the majority of the marketing anyway, so why not keep a much bigger percentage of the purchase price themselves?
Of course, with all of these I was focussing on the career side of things, the ability to make a living, but there is one aspect of being an author that you really can't put a price on – that need to get the story out there. I'm constantly buzzing with new thoughts and possible plots, and the more I write, the more I want to explore those strange new worlds swirling around my brain, and get to learn about the characters who are just busting to come to life. Most of us will carry on writing even if those stories never see the inside of a bookshop – we just can't stop. And that puts all those other problems into perspective. We write because we love it, and it is the best job in the world.