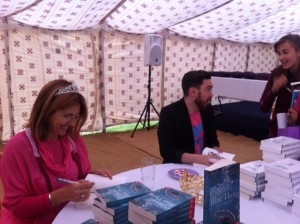 Today, in 2011, Small Blue Thing was published after a whirlwind year of edits, choosing covers, translations and photoshoots. I had never expected to write a book of any kind, never mind one that ended up as award winning, or that I'd be voted as finalist (twice!) for the awesome Queen of Teen. It was the start of a new chapter in my life. I've now had four books for teens published, written one other (still at first draft) and currently have my debut adult thriller out with agents. I still have my day job, as most authors do, but I have a fantastic new passion and have met some brilliant people. I've also discovered a love for school visits. There is nothing quite like a room of 400 kids to focus the attention, and I'm constantly amazed at the questions they can come up with!
My publisher, Nosy Crow, is also seven today, as Small Blue Thing was their launch publication. They have gone from strength to strength, and I'm really proud to have been part of their journey. (Their latest news is here.)
So if you have been one of the many readers who have contacted me over the years, thank you. Your feedback is more precious than you know. Happy Birthday, Small Blue Thing – I can't wait to see what the next seven years bring!