I've not added much here lately. For various – mostly family-related – reasons my writing has slowed over the last two years, and although I have projects in progress, I wasn't making much actual, well, progress. I decided I needed a motivator, something to get me back in the habit.
My husband coaches teams to perform, and he has told me that it takes 60 days to form a habit. After that time you don't need to remind yourself to do something, it just becomes part of you. I'd lost my writing habit, and I needed to get it back. In the past I've tried NaNoWriMo – National Novel Writing Month, where you set yourself the challenge of writing 50,000 words during November. That's about 1,600 words a day, quite a lot if you have a day job, and it's not really sustainable long term. I wanted something less stressful, something to be viewed as a treat, not a challenge. I decided to do #OctNo.
My plan for #OctNo, an entirely made up concept (but then we're writers, we make up stuff all the time :)) was to do something to do with writing every day in October. I wouldn't beat myself up about it, and I'd be very flexible on what I considered could be included. I gave myself the added incentive of posting my daily progress on Twitter. I reckoned that if I was writing, 500 words would be a good target. That's about a page of A4 on a reasonable font (this post is about 760 words in total). And if I was editing, or reviewing, or just pondering, well, that was all progress too.
I currently have two projects in progress. One is a completed manuscript of about 100K words which needs a refresh. The other is a new project. I'm about 40K words in, and considering whether to add some additional voices. If I was going to do this, I thought, I needed to know more about the characters. I set about writing backstory for each of them.
This was the most fun I had during #OctNo. I loved finding out about these people. One was very sweary, one a complete scally, and one was just – well – dull. Luckily she dies early on.
The big manuscript was more of a chore. It needs work, but I'd had differing opinions on what that work should be. I took the advice of someone I trusted and invested in a couple of text books. Some of my #OctNo activities involved reading the books and taking notes, and then reviewing the manuscript. I broke it down into scenes and put a post-it for each on a large bit of card which turned into The Big Pink Plan. Then, when I could see it all, I started adding other post-its to show where things need to change (if you've ever read Asimov's Foundation, it felt like a bad Prime Radiant moment). Once I had that, I was able to think of a way to tweak the story to solve one of the problems I'd uncovered. I've re-written the outline, I'll ponder it a bit more, and then get onto re-writing.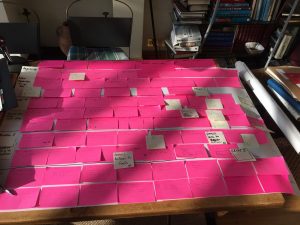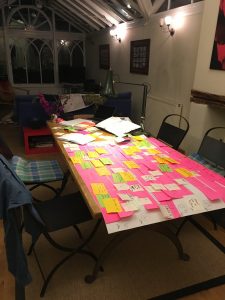 Other activities in the month included reading (well, listening to audiobooks as I commute), drafting a short story, and going to see the inspirational Margaret Atwood talk.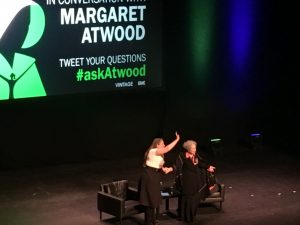 So if you don't have the capacity to keep up with the needs of #NaNo, I can recommend an #OctNo approach – do plenty of what you love about writing, and don't beat yourself up. Sharing also helps, because the lovely people of Twitter are always there to support us.
Keep writing!
Final #OctNo Tally
Here is the day-by-day summary of what I managed to achieve:
1          520 words
2          507 words plus review of edits
3          515
4          828
5          733
6          Editing
7          538
8          127 plus short story notes
9          659
10        304
11        529
12        Editing
13        Editing
14        Editing
15        Editing
16        527 plus editing
17        Re-planning
18        Re-planning
19        Reviewing the plan and discussing with fellow writer
20        Despairing about the plan
21        Pondering
22        Reading textbook on re-structuring
23        Reading textbook on re-structuring
24        Reading textbook on re-structuring
25        Just reading
26        reviewing the plan
27        reviewing the plan
28        670 (revised outline)
29        575 (revised outline)
30        Talk by Margaret Atwood
31        Summarising #OctNo activity
In total:
5,787 words of new project
1,245 words of revised outline for current project
About a billion post-its on the Big Pink Plan
3 audio books
1 text book
1 short story idea
1 inspirational talk