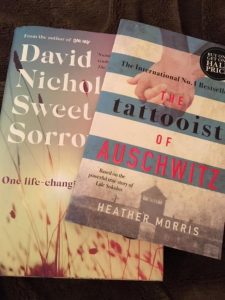 Like most writers I have to squeeze my writing in between the day job, the house and the family, and that often leaves little time for reading other than during the holidays. For many years I found it hard to read at all when I was writing, as I couldn't keep the stories separate in my head, but – thankfully – that's improved and I can now do both. However, fitting in all the reading I wanted was still a challenge. So many great books and so little time!
All that changed in 2019 as a result of a surprise Christmas gift from my son. He bought me a subscription to Audible.
I have a 45-minute driving commute, and I wondered how well I would get on with listening whilst negotiating the A4 heading towards London. I started listening to books that I already knew and loved so that I wouldn't worry if I got distracted and missed a bit. I soon moved onto new books though, and started racing through them. At my daughter's suggestion I listened at x1.25 speed, which kept the voices OK but stepped up the pace. I developed a habit of listening through each book first to get the story and then listening again to learn about the structure, the characterisation, the 'show not tell' and all the other writer's tricks.
I started to listen not just on my commute, but when I was gardening or doing the housework – suddenly the place was clean! Yesterday I looked at the app and saw that I had spent 460 hours listening to books this year – time which I didn't know I had. That's over 19 full days. I've not had to stop writing or doing any of the other things I would usually do. It's as if I've ben given a gift of free reading time.
The books I've read and listened to are below. If I had to pick a favourite of the ones new to me this year, I'd have to select those that I listened to first, then felt compelled to buy in hard copy too – Sweet Sorrow, by David Nicholls, and The Tattooist of Auschwitz, by Heather Morris.
Paperbacks/hardbacks:
Machines like me, Ian McEwan
After the End, Clare Mackintosh
A God in Ruins, Kate Atkinson
Outsider, Stephen King
The Last, Hanna Jameson
The Boy Who Flew, Fleur Hitchcock
Anna at War, Helen Peters
Meat Market, Juno Dawson
The Secrets We Kept, Lara Prescott
Sweet Sorrow, David Nicholls
The Tattooist of Auschwitz, Heather Morris
Unnatural Causes, Richard Shepherd
Breaking and Mending, Joanna Cannon
Danse Macabre, Stephen King
Currently in progress:
Cilka's Journey Heather Morris
The Remarkable Life of the Skin, Monty Lyman
Audio books:
(Listed by date of most recent purchase)
Don't Think a Single Thought, Diana Cambridge
The Ocean at the End of the Lane, Neil Gaiman
Harry Potter and the Order of the Phoenix, Book 5, J.K. Rowling
The Good Samaritan, John Marrs
Nine Perfect Strangers, Liane Moriarty
Harry Potter and the Goblet of Fire, Book 4, J.K. Rowling
Harry Potter and the Prisoner of Azkaban, Book 3, J.K. Rowling
Career of Evil: Cormoran Strike, Book 3, Robert Galbraith
The Silkworm: Cormoran Strike, Book 2, Robert Galbraith
Harry Potter and the Chamber of Secrets, Book 2, J.K. Rowling
The Cuckoo's Calling: Cormoran Strike, Book 1, Robert Galbraith
Lethal White: Cormoran Strike, Book 4, Robert Galbraith
Pride and Prejudice, Jane Austen
Big Little Lies, Liane Moriarty
The Tattooist of Auschwitz, Heather Morris
The Time Traveler's Wife, Audrey Niffenegger
The War of the Worlds, H. G. Wells