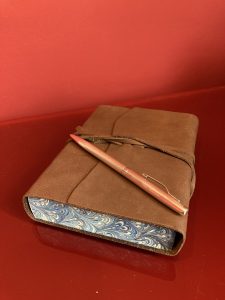 As we emerged, blinking, out of the first lockdown in July 2020, I stumbled across a group pf people who would change my life.
My lockdown had been both traumatic and dull – my mother died just days after it started, and we had to deal with the process of death, a funeral and probate lawyers when none of us knew what we could and couldn't do. But my job carried on as before. I just turned up at my home desk every morning instead of heading into the office every few days. As the car (literally) mouldered, I found it hard to motivate myself to do much else.
Then, on the 7th July I saw a tweet which would change everything. Someone mentioned an online writing community, a place where you could join a zoom call and sit in silence for 50 minutes, writing. Seemed a bit weird, but I was very used to zoom meetings. I clicked the link.
There was something strangely compelling about those early calls with the London Writers' Salon. When I joined my first call on the 8th July, there were about a hundred of us (I think), and the faces and personalities quickly became familiar.
I have been on pretty much every call since then, except on the very few days when I've been travelling. When I heard about the weekend calls I joined those, too.
At the time I was writing a novel – the second I had written for adults after getting a handful of books for teenagers published. The first book for adults had had some interest from agents, but I'd got discouraged and started a shiny new thing, and that too was sagging, about 40K words in. The writers' hour gave me a regular space to find a rhythm to create. My earlier books had been written during a daily commute, and I realised I needed that discipline. So, from July last year I got up stupidly early, walked the dog, and was ready at my desk for the 8 o'clock words of wisdom and the growing community.
After a while I joined officially – becoming a patron and getting access to the group Slack channel. I watched videos and webinars, chatted to other writers, and slowly felt more and more absorbed by my new tribe. When my husband went away for a weekend in October I bought Scrivener and spent two days wrestling my manuscript into the package. The book was flying along.
The LWS slack channel has a critique group, and when I felt that my baby was ready, I offered it up to them. They came back with helpful suggestions and several offers of Beta readers which I snatched up. Another round of edits followed and I pulled together a list of agents I wanted to approach – seven in all. Within days I had requests for the full manuscript from four of them, and I held my breath.
While this was going on I started a new book, entered a few essay competitions, wrote a short story for the LWS anthology, and – scariest of all – took a redundancy package and stepped away from corporate life to write full time. It's been a busy twelve months, even though I've barely left my desk.
I'd love to end this summary of the year by saying that an agent picked me up and negotiated a multi-book deal with a six-figure advance, but that hasn't happened. I'm still hoping, sending out the queries and writing an even better book (70K words since going full time in April!). The LWS has shown me that I can always improve, that even when I get a knock back I can dust myself off and go again. I know that I'll get there eventually.
I wish I could remember whose tweet I saw last year that sent me off down this path. I'd like to buy them a drink.