Today is UKYA day – a day for special celebrations of the UKYA community, organised by the unstoppable Lucy Powrie at Queen of Contemporary. When I thought about what I'd like to write about to celebrate it, one things seemed most relevant – why I started writing UKYA in the first place.
Yesterday I blogged about what it's like to be a writer, but only six years ago I wasn't. I'd not written a word of fiction since I'd been at school decades before. The catalyst was my daughter – she was eleven at the time and was reading the Twilight books. She absolutely loved them, and I borrowed one to read on the train as I was interested in seeing what she liked.
What struck me most about them was how American they were, stuffed full of cultural references which she couldn't possibly understand. I wanted her to read some books which were age-appropriate but also familiar, so I went to my local bookshop and scanned the shelves. There were plenty of Jacqueline Wilson books, but aside from that everything else I picked up seems to be more by Americans.
I decided that it would be fun to see if I could write a story myself, set in the UK, full of references which my daughter would understand and enjoy. I could base the main character on an older version of my daughter, who could go to a school like hers and have friends with the same names as her friends. I had time on my daily commute to write, and I had a deadline – her birthday in September. I was soon into a rhythm, writing on my BlackBerry every train journey, and then emailing the files to myself. At the weekend I'd patch them all together into a bigger file and edit. I wrote about London, and Twickenham (where she was born), St Paul's Cathedral, and the stuff that teenage girls do – have unsuitable boyfriends, learn to drive, squabble and gossip. Then I threw in a love interest. Someone who she could fall for, but (and this is crucial if you are writing for your own daughter!) who is also unattainable.
It took six months, but it was ready for her birthday. She had been kept in the dark about it, only knowing that I was writing her something, and I handed her over a copy I'd had bound. It was called Small Blue Thing. She scuttled off to read. At one point she came back, tears streaming down her face. "I can't believe that you did that to them," she muttered as she shot off again to finish it. I'd made her cry! I didn't think it could get any better than that.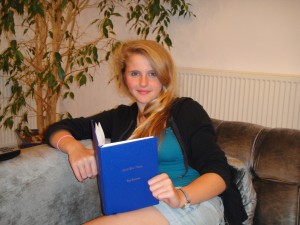 Luckily she loved the whole thing, and started lending it to her friends. One thing led to another and I got introduced to someone who was interested in publishing it – and not only that, but a whole trilogy too.  Fast forward through those six years, and I've just had my fourth book published, and I've completed the first draft of a new one. Life has changed hugely, and I've met so many brilliant people involved in the writing and publication of books for children and teens.
In that time the UK YA community has come of age. We are now a driving force in the publishing industry. There are whole conferences (YALC, for example) just for us. The Children's Laureate, Malorie Blackman, is a huge champion for us, and the blogging community is awesome. I'm truly proud to have been a small part of that revolution, and I'm also hugely relieved that, on that day when I went looking for books for my daughter, that I didn't speak to a bookseller. They would have pointed me to some of the new band of writers, and I'd have bought her those books. I might never have made the decision to write my own.
So, to celebrate UKYA day, I'm giving way a signed set of all four of my published books – Small Blue Thing, Perfectly Reflected, Scattering Like Light and The Beneath. To be in with a chance, comment on the post, or RT and follow on Twitter. Good Luck!