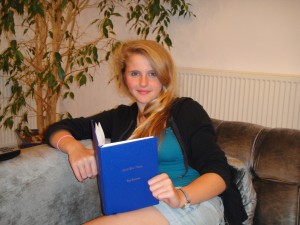 January 13th has been a pretty special date for me over the last few years. Today it is exactly four years to the day since Small Blue Thing was published, and three years since Scattering Like Light hit the shops and completed the trilogy. It's also exactly five years since I met Kate Wilson for the first time. Kate is the owner of Nosy Crow, the company which publishes my books. But when we met that day she hadn't got a company – she had just left another senior publishing job and had offered to look at my manuscript as a favour.
I wasn't expecting much – I was hoping that she might tell me that it wasn't rubbish, and maybe introduce me to an agent or two. That would have been brilliant. But what I got was so much more. Kate loved the book so much that she made me an offer on the spot for my book to be the first publication  for a company she was thinking about setting up – Nosy Crow.
I was expecting none of that, having only written the book as a birthday present for my daughter. I'd started it the previous February as an experiment, and had only just managed to get it ready for my deadline of September. I had two copies printed and bound and I gave them to Ellie, expecting that to be it. But then everything snowballed and I ended up talking to Kate, and well – here we are. Before I knew it we had translated copies, websites and videos, and fan mail arriving from all over the world. At the same time, Nosy Crow has grown into a hugely respected force in publishing.
So what about January 13th 2015? My new book, The Beneath, it due out in a few sort weeks, and I'm starting to plan the guest blog posts, the school visits and all the other exciting things which come with publishing a new book. I can't wait!